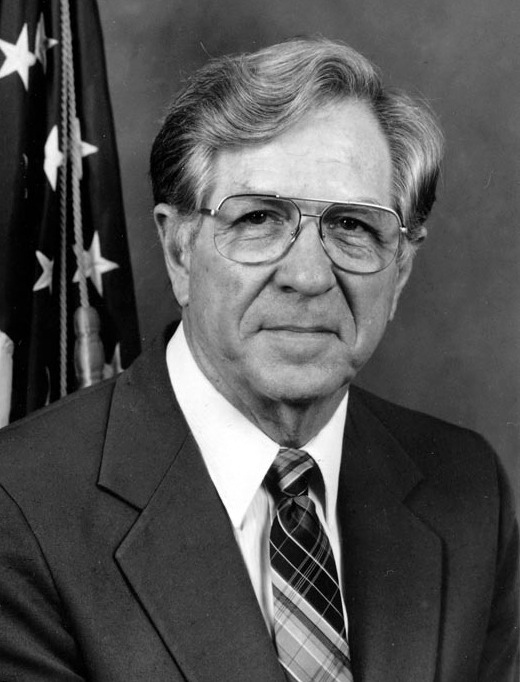 Congressman Neal Smith is celebrating his 100th Birthday on March 23! Earlier this month, University & Political Papers Archivist Hope Bibens spoke at the Des Moines Rotary Club about the congressman in celebration of his birthday. A portion of her remarks are published here:
I came to Drake and Des Moines in 2014 to be the archivist for the papers of Senator Tom Harkin, but little did I know that when I arrived, I would have another congressional collection to work with. Before I started working on the Harkin Papers – before they even arrived – I started to dig in to the Neal Smith Congressional Papers at Drake with the hopes of making them more accessible to researchers. Now, I'm not a native Iowan, but I felt like I truly knew Iowa after working with the Smith Papers.
I study Congress for a living – and so naturally when I come to a new place, I want to learn about their members of Congress. So the first thing I did when I started working with the Smith papers was to read the Congressman's book, Mr. Smith Goes to Washington. And I have never been more impressed by a member of Congress – his temperament, his humility, his work ethic. His ability to balance competing interests to make the system work. He let his work speak for itself – there was no need for self-promotion. He embodies everything a constituent would want in their member of Congress. I know that the residents of every state think that their state is the best or special – but Neal Smith is the perfect of example of what is so special and so good about Iowa.
So an archivist's job isn't to just keep all of this knowledge to themselves – we work with researchers who come in to the view the materials so they can write their own articles or books – and so I just wanted to tell you a little bit about some of the research projects people have done by studying Congressman Smith's papers. We have researchers from all across the country who contact us for information or come to visit to pour through the over 100 boxes of materials and their projects have varied from a PhD candidate researching the beef industry, to an author working on a book project on the Vietnam War. From a student writing about Saylorville Dam to others researching anti-nepotism and anti-trust legislation. Most recently, we have seen a lot of interest in agriculture files – specifically the farm crisis of the 1980s and how members of Congress responded to their constituents. Congressman Smith worked on so many different issues throughout his career and that makes working on these reference questions so rewarding. And I know that researchers have only just begun to scratch the surface of this incredible collection that we are so grateful to house at Drake.
When it came time to start thinking about how the Archives at Drake could commemorate Congressman Smith's 100th birthday, I wanted to get the students who work on the description of his collection involved. And so I asked one of the students if she would like to curate a display for our case outside the Archives in Cowles Library. I thought she would put some photographs, awards, and memorabilia in the case like we normally do, but she did something that surprised me – and is so reflective of the career of Congressman Smith. She went through all of the bills – all of the thousands of pieces of legislation that he sponsored or co-sponsored – and picked out 100 bills from across all topics to put in the display case. Now, of course, she also included some fun awards like one with a giant pig attached to it from the Iowa Pork Industry, a gavel signed by Tip O'Neill, and photographs with Jimmy Carter and Lyndon Johnson, but what is most impressive – and most striking are the bills. The Wholesome Meat Act, the Farmer-Held Grain Reserve Act, the Commodity Futures Trading Commission Act of 1974, the Small Business Development Center Act of 1976, student loan programs, emergency health services, public works, recreation, and conservation projects in Iowa. It's so incredible to see them all in the display case side by side – and to think that this was just a small portion of his legislative work and his impact on Iowa and the country is almost overwhelming.
All of this is to say that it's an honor to be tasked with preserving someone's legacy, but especially someone like Congressman Smith. I know I speak for everyone at Drake University and The Harkin Institute, when I say Happy Birthday and we are so proud that you are part of our family!
For more on the Neal Smith Congressional Papers visit: https://archives.library.drake.edu/political-papers-collection/neal-smith-papers/